Gold Prices Could Outperform Many Assets
Gold prices could outperform a lot of assets in the coming months. In fact, don't rule out gold going for even $2,000 per ounce.
The case for owning gold keeps getting stronger. You could really potentially be making a big mistake if you ignore the yellow precious metal.
Why be so bullish on gold? Well, there are a few factors that could raise the price of gold, including uncertainty, volatility, low interest rates, and money devaluation.
And right now, a lot of these factors are coming into play, which could lead to gold prices skyrocketing.
In the global economy, we have an abundance of uncertainty.
No matter where you look, economic data is poor. Major economies are slowing down, with two of the biggest—the U.S. and China—fighting a trade war.
We also have tons of volatility in several assets.
Look at the chart below, for example. It plots the CBOE Volatility Index (VIX), often referred to as the "Fear Index." It provides a sense of the volatility in the stock market, as well as investor sentiment.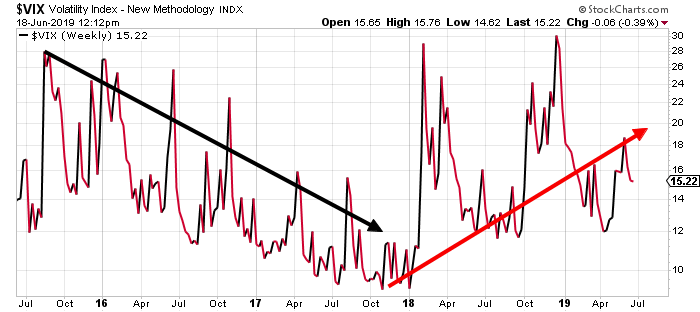 Chart courtesy of StockCharts.com
Between 2016 and 2017, volatility in the stock market was clearly declining. But since the beginning of 2018, volatility has remained relatively high. In fact, we have seen the VIX spike to 30 twice.
As for low interest rates, central banks are changing their rhetoric. Over the past few years, they were adamant that they would raise rates; now they're not so sure. The Federal Reserve is expected to cut interest rates as early as late 2019, the European Central Bank just came out and said it could cut rates, and several other major central banks are considering rate cuts as well.
Regarding currency devaluation, consider what's happening to currencies in developing and emerging market economies; their currencies have seen a major decline in value. As central banks contemplate interest rate cuts and economies perform poorly, devaluation becomes more likely.
The Wild Card
Don't also forget the "wild card" in gold prices: supply and demand in the gold market.
Over the past few years, low prices have heavily damaged the gold market. We haven't seen much exploration, with companies taking "easy" gold out of the ground.
Should the demand for gold increase, it wouldn't be shocking to see a shortage of some kind.
Gold Price Outlook: $2,000 Could Just Be a Loose Target
The downside on gold could be very small, but the upside could be immense.
I don't see gold prices dropping below $850.00 per ounce outside of a worst-case scenario. At that price, there could be a severe gold shortage.
If the price of gold were to reach the $2,000-per-ounce level I mentioned earlier, don't be shocked to see speculation take it much higher.
Considering everything that's happening, it might be a good idea to pay close attention to mining stocks, a large number of which are selling for pennies on the dollar. If gold prices shoot higher, mining stocks could be the next millionaire makers.