Eurozone Banks Are Foretelling a Financial Crisis
There's one place that investors shouldn't ignore, because it could be the source of the next financial crisis: eurozone banks.
You see, in the mainstream media, we hear all about how the European Central Bank (ECB) is doing all it can to support the financial sector of the common currency region after it had its own financial crisis in 2011. The ECB has been keeping its benchmark interest rates below zero, and it is printing money.
Mind you, this has been happening for several years now.
By this time, one would assume that all is well and that the financial sector of the region is fine. Be very careful if you subscribe to this theory.
What Happened With U.S. Banks After Crisis of 2008–2009?
Look at what happened to the U.S. financial sector after the financial crisis of 2008–2009. We had the Federal Reserve jump in and bail out banks. At its core, this action made bank balance sheets stronger. As a result, confidence in the U.S. financial sector was renewed and bank stock prices surged.
Consider JPMorgan Chase & Co. (NYSE:JPM), for example. Prior to the financial crisis, JPM stock traded at around $40.00. Now, it trades at around $110.00. A rising stock price tells us that investors are confident in the bank.
No Confidence in Eurozone Banks
Now, go back to the eurozone financial sector; it doesn't seem like there's much trust and confidence.
Look at the chart below of Deutsche Bank AG (NYSE:DB) stock. Deutsche Bank is one of the most well-known banks in Germany. It has assets of €1.6 trillion, close to 3,000 branches, and over 100,000 employees globally. DB stock has a book value of €40.10. (Source: "Financial Data Supplement Q4 2017," Deutsche Bank AG, March 16, 2018.)
With all this, Deutsche Bank has a market capitalization of just $28.6 billion, and it's trading ridiculously below its book value. It trades below 2008–2009 levels. This says investors aren't confident in the bank.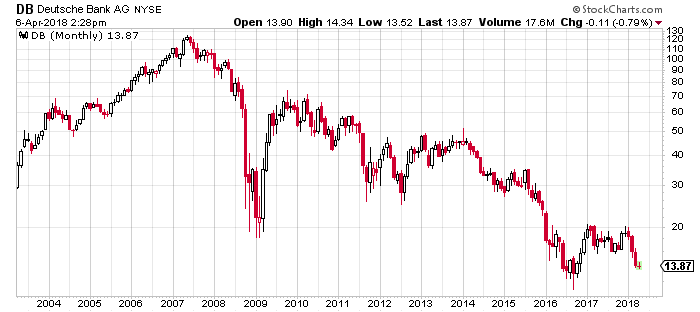 Chart courtesy of StockCharts.com
Don't for a second think, however, that Deutsche Bank is the only bank trading like this. We see the bearish sentiment prevail across other major banks in the eurozone as well.
Why Worry About Eurozone Banks?
Dear reader, I can't stress this enough: don't ignore the eurozone financial sector.
When I see the stock price of major banks in the eurozone, it tells me there are still a lot of risks present and investors don't like the banks. It foretells a financial crisis.
I understand that one could say, "Why do I need to care about what happens to European banks?"
Know that the U.S. isn't an isolated nation. The U.S. financial sector is very well connected with the global financial system. A hiccup in eurozone banks could send waves of uncertainty across the world. And don't think that U.S. banks will be able to avoid it.
If a bank like Deutsche Bank suddenly comes out and says, "We are out of money and can't remain solvent," what do you think will happen? I believe its stock price is telling us something that's worth paying attention to. We could see a repeat of something like what happened after Lehman Brothers collapsed. A major financial crisis could follow.