When Earnings Expectations Tumble, a Stock Market Crash Follows
A stock market crash remains a real possibility in 2019. Investors, beware.
Remember, the stock market is a forward-looking animal.
What does that mean? Investors don't really care much about what happened in the past. They are more concerned about how earnings will look in the coming quarters and years. If earnings are expected to decline, the stock market performance is dismal.
If earnings are expected to tumble, you see a stock market crash. The opposite is also true; if earnings are expected to grow, stocks rally.
In 2018, companies on the key stock indices reported stellar earnings. You can thank President Donald Trump's tax cuts for this. In anticipation of earnings, we saw solid gains on the stock market before 2018 even began.
What's Ahead?
In 2019 and beyond, earnings could be in trouble.
Know that the first quarter of 2019 hasn't even ended yet, but we are already seeing a large number of companies warning about their earnings.
Consider that, so far, 68 companies on the S&P 500 have issued negative guidance about first-quarter 2019 earnings. Just 25 companies have issued positive guidance.
For every one company reporting positive guidance, there are close to three companies reporting negative guidance. In other words, of all the companies reporting guidance on the S&P 500, 73% of them are issuing negative guidance. (Source: "Earnings Insights," FactSet Research Systems Inc., February 22, 2019.)
Here's the kicker: Wall Street's expectations for first-quarter 2019 earnings are tumbling.
We are still in the midst of fourth-quarter 2018 earnings season and companies are reporting earnings growth of 13.1%. If this is the final number, then the fourth quarter of 2018 would mark the fifth quarter in a row in which S&P 500 companies witnessed earnings growing in the double digits. (Source: Ibid.)
Also look at what analysts are expecting. For the first quarter of 2019, analysts expected S&P 500 companies to report a decline of 2.7% in earnings! Not too long ago, they were expecting a slight growth in earnings.
For the second quarter, they expect earnings growth of just 0.7%. A few weeks earlier, they estimated second-quarter 2019 earnings to grow by well over two percent.
For the third and fourth quarters of 2019, analysts are expecting earnings growth of 2.2% and 8.8%, respectively. (Source: Ibid.)
In the coming weeks, it wouldn't be shocking if these figures are much lower as well. Why? There are a lot of risks to earnings.
How Low Could the Stock Market Go?
Dear reader, as I said earlier, don't rule out a stock market crash in 2019 just yet.
In late 2018, investors panicked as the earnings outlook tumbled. What do you think will happen if Q2, Q3, and Q4 earnings estimates tumble as well? You could expect investors' exit from the stock market to be much more severe.
Look at the chart below: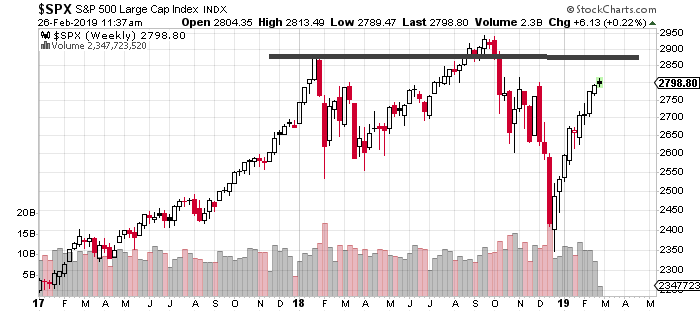 Chart courtesy of StockCharts.com
I believe there's a possible ceiling building up on the stock market. On the S&P 500, it is around 2,900. Every time the market gets to this level, it drops.
In early 2018, the S&P 500 dropped about 11% after reaching close to 2,900. In late 2018, we saw a drop of close to 20% from that level.
One has to wonder if the next move down after 2,900 could be much more severe. A 30% move could be possible.