U.S. Housing Market Data Taking a Wrong Turn Thanks to Rising Interest Rates
The U.S housing market could be setting up to disappoint in 2019, all thanks to rising interest rates.
Long-term readers of Lombardi Letter have been warned before that as interest rates go higher, there are going to be victims.
Right now, the U.S. housing market is looking like it's one of the biggest. We are seeing a lot of troubling developments that could impact much in the coming months and quarters.
Housing market data is becoming dismal, with home sales declining.
In November 2017, the annual rate of new homes sales was 712,000. In October of 2018, this rate stood at 544,000. (Source: "New One Family Houses Sold: United States," Federal Reserve Bank of St. Louis, last accessed December 27, 2018.)
New homes sales have dropped close to 24% in less than a year. Mind you, in October, sales of new homes in the U.S. dropped to the lowest level since March 2016.
Homebuilders, who are close to the U.S. housing market, are getting nervous too. Just look at the Housing Market Index (HMI), tracked by the National Association of Home Builders and Wells Fargo & Co (NYSE:WFC). (Source: "Housing Market Index (HMI)," National Association of Home Builders, last accessed December 27, 2018.)
The HMI is essentially the result of a survey that asks homebuilders about the market conditions. This index ranges from zero to 100. A reading of zero means conditions in the markets are poor, while a reading of 100 means conditions are great.
In January 2018, the HMI stood at 72. In December, the reading was 56. That is quite the deterioration over a single year.
What does the HMI say? It's saying that homebuilders are not as optimistic as they were in early 2018.
What's Next for the U.S. Housing Market?
Let's make one thing clear: higher interest rates mean that American home affordability declines.
As interest rates are going higher, mortgage rates are also increasing. For example, in late 2016, 30-year fixed mortgage rates stood at around 3.4%; now, the same rates are at 4.55%. This may not sound big, but it's a huge increase in the grand scheme of things. (Source: "30-Year Fixed Rate Mortgage Average in the United States," Federal Reserve Bank of St. Louis, last accessed December 27, 2018.)
It is now more expensive to get a house than it was two years ago.
Sadly, the Federal Reserve has made it clear that it will continue to raise rates. So you can expect mortgage rates to continue to go higher.
I am not going to be surprised if we start to see headlines saying something along the lines of, "Home prices decline in the U.S. for the first time since ____," in the next few months.
If the housing market becomes a victim of interest rates, investors holding homebuilders' stocks could face losses. We are already seeing homebuilder stocks tumbling, but more could follow.
See the chart below of the iShares U.S. Home Construction ETF (NYSE:ITB), an exchange-traded fund (ETF) tracking homebuilders' stocks. As you can see below, it has declined 33% over the last one year.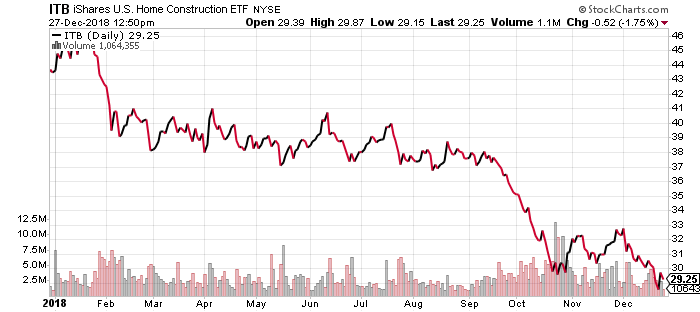 Chart courtesy of StockCharts.com
Also consider that the poor housing market could impact the overall U.S. economy, with declining sales and home prices potentially harming consumer spending and sentiment.
In conclusion, the housing market is currently being ignored, which could cause a lot of problems ahead in 2019.