Investors shouldn't be discouraged by the recent weakness in silver prices. In fact, I believe they should look at it as an opportunity.
What the Silver Chart's Saying
The chart on silver prices that I include below shows severe pessimism. In the chart, we see a formation pattern called a "symmetrical triangle." Essentially, it's a price chart pattern in which, as prices get into a narrow range, they eventually break one way or the other outside of the triangle.
Once the price gets outside of the triangle, the direction could be predicted. If the price breaks above the triangle, one could expect a higher price. If it breaks below the triangle, one could expect losses. Just recently, the price of silver broke below the triangle. This is not good.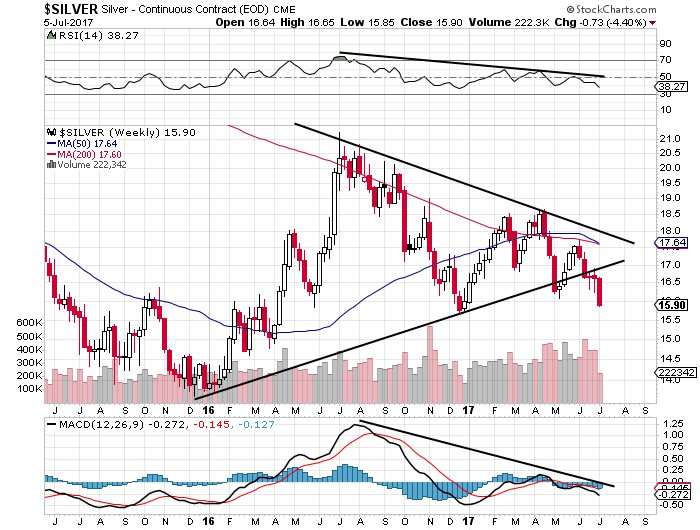 Chart Courtesy of StockCharts.com
Dear reader; the amount of negativity and disregard surrounding silver is severe. I wouldn't be surprised to see silver prices follow gold lower through these summer months. However, considering the rising demand for silver, lower silver prices just make the metal a better deal for investors.
Silver Prices to Boost Senior Silver Mining Stocks
After trading as high as $45.83 in 2011, silver prices today are about the same as they were in late 2009.
Think about that for a moment. The U.S. Federal Reserve had printed trillions of dollars of new paper money since 2009. Increasing the money supply is inflationary, which bodes well for precious metals like silver. And the economy has improved substantially since 2009, which again bodes well for silver prices. A stronger economy means more demand for the many products for which silver is an essential component, like electronics, mobile devices, and solar panels.
I continue to see the stock prices of senior silver mining companies as a bargain at their current depressed levels.