Debt Crisis to Hurt Dollar, Help Gold
In the coming weeks, an event is about to take place that could hurt the U.S. dollar severely, sending waves of uncertainty across the globe. I'm talking about the U.S. national debt ceiling limit.
The federal government limits how much it can borrow, and we are reaching that limit again.
Treasury Secretary Steven Mnuchin has sent a letter to Congress saying, "Based upon our available information, I believe that it is critical that Congress act to increase the nation's borrowing authority by September 29, 2017. I urge Congress to act promptly on this important matter." (Source: "Secretary Mnuchin sends debt limit letter to Congress," U.S. Department of the Treasury, July 28, 2017.)
What happens if Congress doesn't increase the U.S. national debt limit? If the limit isn't increased, the federal government can't borrow more money.
U.S. government debt has already reached $20.0 trillion. Imagine what happens if, all of a sudden, the government can't borrow money. We could see credit ratings cut for the U.S. government and ultimately hear the government say, "Sorry, we can't pay you," to its creditors. The U.S. dollar would plummet under such a scenario.
Credit ratings agencies are warning the federal government to increase its debt limit.
"If the debt limit is not raised in a timely manner prior to the so-called "x date," Fitch would review the US sovereign rating, with potentially negative implications," said Fitch Ratings, Inc. last week. "We have previously said that prioritising debt service payments over other obligations if the limit is not raised – if legally and technically feasible – may not be compatible with 'AAA' status." (Source: "Fitch: Debt Limit, Government Funding to Test US Policy Makers," Fitch Ratings, Inc., August 23, 2017.)
Here are my concerns.
To date, the Donald Trump administration has been ineffective in getting Congress to do anything.
For instance, the Trump administration failed to repeal Obamacare, despite having a Republican majority. The promises of tax cuts that were central to Trump's election campaign are not even on the table yet for Congress.
(For the record, I'm not taking sides. I'm just pointing out that the political situation has deteriorated over the past few months, and congressional infighting is making it difficult for anything to get done in Washington.)
Mind you, this isn't the first time something like this has happened.
If you recall, in 2011, we had a lot of debate about whether the debt ceiling should be raised. The U.S. government credit rating was downgraded and the U.S. dollar took a beating. Just look at the chart below of the U.S. dollar index in 2011.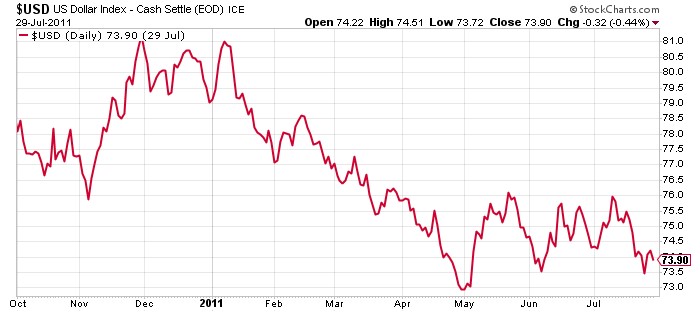 Chart courtesy of StockCharts.com
Dear reader, I'm watching the U.S. dollar very closely. It has already shed a significant amount of value relative to other major currencies since the beginning of the year. If there's uncertainty around the U.S. national debt limit, don't be shocked to see a sort of mini-crash in the U.S. dollar.
This would, of course, be a boon for gold. I continue to stress that the current depressed prices of senior and junior gold mining company stocks are a bargain, especially in light of the debt ceiling concerns we now face.