Two Scenarios Painting a Bullish Outlook for Gold Prices
Gold prices have done really well lately. Year-to-date, the precious yellow metal has jumped by over 17%. Year-over-year, the return on gold is close to 26%.
And, if an investor held gold for the last five years, their return would have been around 53%. Mind you, in this same period, the S&P 500 increased by 51.3%. So, an investor could be better off just by holding gold than by buying an index fund that tracks the S&P 500.
But this may not be all. In the coming years, we can expect the return on gold to get even better. It's possible that gold will beat stock market returns in the next two to three years.
Why have such a bullish outlook on gold prices? Charts say the yellow precious metal could be setting up to moonshot beyond $2,000.
At the moment, charts say there are possibly two scenarios at play, both of them bullish. However, one of the scenarios could mean a slight decline in price before a massive rally.
Here's what you need to know.
Scenario #1 for Gold Prices
It's possible that the price of gold could be forming a technical-analysis chart pattern called a "cup and handle." It's drawn on the chart below. A cup and handle pattern forms when prices trade in a "U"-shaped pattern and follow with a slight downward drift at the end.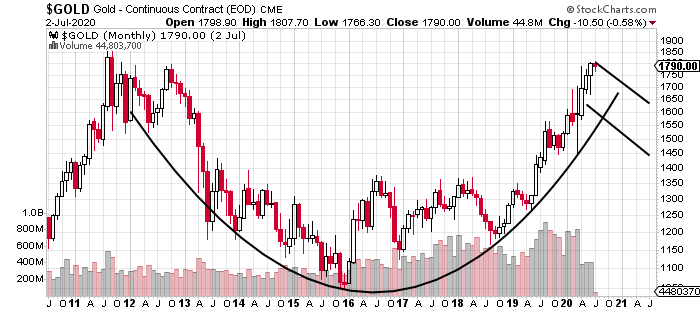 Chart courtesy of StockCharts.com
Technical analysts consider this a bullish pattern. Once this pattern forms, technical traders wait for the price to trade out of that downward drift and then buy. We haven't seen that happen yet. However, if the downward drift happens, we will see a slight decline in gold prices.
Keep in mind that, with every chart pattern, there are targets.
With a cup and handle pattern, after the price breaks out of the drift, the target is set by measuring the distance between the right peak and the bottom of the cup, and then adding it to the breakout point.
In this case, the distance from the peak and the bottom of the cup is around $750.0 (bottom of $1,050 in 2015, and assuming the peak to be around the current price of about $1,800). Assuming a breakout point of $1,650, this chart pattern says the price of gold could go as high as $2,400.
That's 34% above the current price.
Scenario #2 for Gold Prices
This scenario is a relatively simple one.
The $1,800–$1,910 level is a major resistance level for gold prices. Assuming we see the price break above this range, we could have a breakout in play and there could be a rapid move to the upside.
If this actually happens, the price of gold would enter uncharted territory and we could see a lot of buyers' attention toward gold.
How to Capitalize on This Gold Bull Market
Dear reader, I have been saying this for a while now: look at gold miners. They provide the most leverage to gold prices.
Over the past few years, I've seen a lot of big gold miners getting a lot of attention from investors. But the smaller companies got ignored. I still see their shares selling at significantly low values. If the price of gold soars, these smaller companies could provide 10-bagger returns.