Bitcoin Price Forecast 2018 Looks Upward as Institutional Demand Keeps Ramping Up
Bitcoin's rise to prominence has been nothing short of breathtaking. Just when it seems the price can't possibly move higher, it does. Bitcoin has undergone four separate parabolic runs since 2011, each time soaring to more death-defying heights. Nothing suggests a slowdown in price action at this point. In fact, higher prices seem likely. My Bitcoin price forecast 2018 reflects the increasingly positive catalysts on the horizon, the least of which is soaring institutional demand.
If Bitcoin prices were expected to slow down at some point, that's yet to happen. The Bitcoin price history in 2017 has actually seen an increase in price momentum—not a decline. Sure, there have been occasional sharp sell-offs, but rallies are more dominant. Prices closed the year 2016 at around $968.00/BTC and, since then, those prices have risen more than fourfold (as of this writing, Bitcoin trades at $4,017.18/BTC). This easily makes Bitcoin the strongest world currency by a factor of thousands of percent. This type of currency strength is something the world has never experienced before.
But can it continue? That's the million-dollar question on everybody's minds. Staking a significant position here takes guts, and nobody wants to get caught holding the bag. Fortunately for Bitcoin proponents, intermediate-term momentum seems sustainable. All the momentum is at Bitcoin's back, and market capitalization projections are favorable.
The latest price momentum boost came following Bitcoin's August 1, 2017 "Doomsday" hard fork deadline. Not only was this deadline a non-event, it passed a key test with flying colors. The software upgrade was necessary to combat soaring transaction costs and processing times due to Bitcoin's limited block limit sizes.
In the weeks prior to the fork, investors were fearful that the Bitcoin brand would suffer as an alternative cryptocurrency spin-off would form. There were also fears that possible backdoor security hacks could corrupt the blockchain. Although the hard fork created a separate alt-cryptocurrency called "Bitcoin Cash (BCH)," major problems surrounding the upgrade failed to materialize.
As an added bonus to Bitcoin holders, about $4.0 billion in fresh market value was created out of thin air, courtesy of BCH (each Bitcoin holder received one BCH for every BTC they held). The smoothly-delivered software upgrade also instilled confidence in investors that the more important upgrade, called SegWit2x, would integrate smoothly in the fall. For those old enough to remember the "Y2K" phenomenon, this was it. Same "nothingburger" at the end of it all.
Immediately following Bitcoin's respite, prices again went parabolic. Between August 1 and August 14, 2017, prices soared from $2,700/BTC to $4,500/BTC (around 67%). It's almost as if institutional demand finally decided to go all-in, now that the ill-hyped SegWit2x issues had settled. The hard fork non-issue might have been the last significant resistance preventing big institutional money from flowing in. In fact, we have anecdotal evidence of this.
CBOE Holdings, Inc (NASDAQ:CBOE)—the parent company of America's largest options exchange—and Gemini Trust Company, LLC announced an agreement to utilize Gemini's Bitcoin market data to create Bitcoin trading products. The CBOE plans to offer cash-settled Bitcoin futures as early as the fourth quarter of 2017, pending regulatory approval. This comes shortly after the U.S. Commodity Futures Trading Commission's approval in July 2017 to offer Bitcoin options. (Source: "CBOE plans to launch bitcoin futures, announces agreement with Winklevoss brothers' digital currency exchange," CNBC, August 2, 2017.)
The fact that this announcement was disseminated the day after Bitcoin's software upgrade may or may not be a coincidence. But regardless, insatiable institutional demand is real. It's at the point where major derivative exchanges want in. The Chicago Board Options Exchange (CBOE) executes more than 1.27 billion contracts each year (2014 numbers), and Bitcoin promises to receive its healthy share of volume.
It also seems inevitable that an exchange-traded fund (ETF) is around the corner (although a proposal was rejected by the United States Security and Exchange Commission (SEC) earlier this year). Once that's in place, millions of online traders will be able to purchase Bitcoin derivatives with the click of a mouse.
It's just a matter of time.
Bitcoin Price to Reach $10,200 by the End of 2018 
We know that Bitcoin adoption rates are rising quickly throughout the world. We know that an increasing sum of sovereign nations and corporations are accepting it as legal tender. But perhaps the most compelling reason of all the Bitcoin price outlook 2018 is valuation. Now that the market has matured somewhat, more predictable use growth trends are emerging. If trends continue the way many experts expect, Bitcoin is downright cheap from a market capitalization perspective.
For example, Saxo Bank analyst Kay Van-Petersen maintains Bitcoin future value predictions of $100,000/BTC in 10 short years. This is based on forward-looking assumptions based on adjusted growth rates. Van-Petersen projects that all cryptocurrencies will account for 10% of the average daily volumes (ADV) of currency trade in 10 years. Bitcoin will receive the highest individual ADVs, at 3.5%. As foreign exchange ADVs are currently around $5.0 trillion every day, Van-Petersen projects $175.0 billion worth of bitcoin would be traded every day.
If we assign a reasonable valuation of 10 times ADV, then total Bitcoin capitalization could reach $1.75 trillion if projections hold. If we divide $1.75 trillion by a projected 17 million Bitcoin, then all of a sudden, the $100,000/BTC price target doesn't seem far-fetched. (Source: "Bitcoin could hit $100,000 in 10 years, says the analyst who correctly called its $2,000 price," CNBC, May 31, 2017.)
In a similar vein, Snap Inc (NYSE:SNAP) co-founder Jeremy Liew and Blockchain CEO Peter Smith extolled a Bitcoin price outlook of $500,000 by 2030! This wasn't a wild, over-the-top prediction from some no-name outside the industry. This came from successful and respected executives from the tech industry, based on reasonable assumptions. They include:
Average value per user (AVU) grows to $25,000 from $2,515, where it currently stands today
The Bitcoin network grows 61-fold from now until 2030 (around 400 million total users in a world with eight billion people)
An average Bitcoin price outlook for 2017 of $1,000/BTC (way too conservative!)
A 2030 Bitcoin supply of 20 million "coins"
A 2030 market capitalization decided by the number of holders times the average number of "coins" held by Bitcoin users
Even if you believe that these assumptions are overly optimistic, they probably don't wildly miss the mark. For example, if, by 2030, Bitcoin "only" totals 200 million regular users (which would only be one in 40 people worldwide), Liew and Smith's price target would miss the mark. But it would still be much higher, perhaps by a factor of four digits. In other words, unless you believe that these analyst projections are erroneous, prices have room to grow.
Bitcoin Price Chart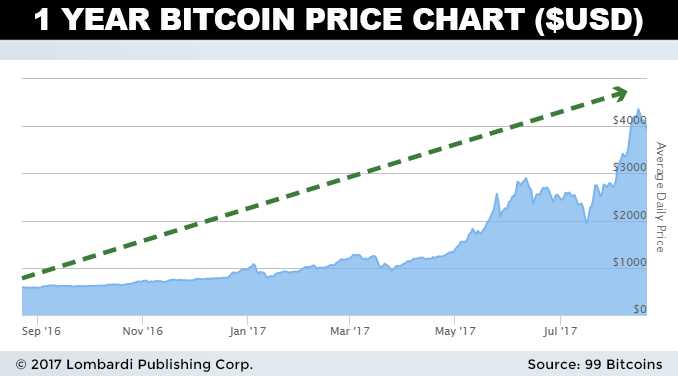 My Bitcoin price prediction 2018 takes the perspective that worldwide user growth will continue at trend levels. Although there are risks involved with this assumption (i.e. major governments resisting Bitcoin integration into the banking system), I believe that the trend is towards liberalization and adoption. In time, cryptocurrencies may even be viewed as a quasi-alternative to the disastrous debts incurred through fiat debt financing. Time will tell.
As such, my Bitcoin price forecast 2018 is $10,200/BTC. Greater government acceptance—such as Japan's decision to recognize Bitcoin as legal tender—will facilitate this target. Should G20 governments decide to fight Bitcoin adoption, it may fall short. But, as with any brilliant technology, I believe its usefulness is here to stay.
As long as it's recognized as such, investors will remain quite happy.