Evidence Mounting that Recession Coming to United States
The number of indicators pointing to a recession ahead in the U.S. economy is growing.
Look at construction spending in the United States, for example. As the chart below shows, its growth rate is deteriorating at an alarming pace.
Since mid-2015, construction spending, a leading indicator of economic growth and contraction, has been plunging.
In previous U.S. recessions, we saw construction spending starting to plummet just before the economic slowdown began. The same thing will happen in this cycle.
The construction industry employs a lot of Americans and usually pays well. So, if spending in the industry is declining, it will hurt jobs and ultimately hurt consumption.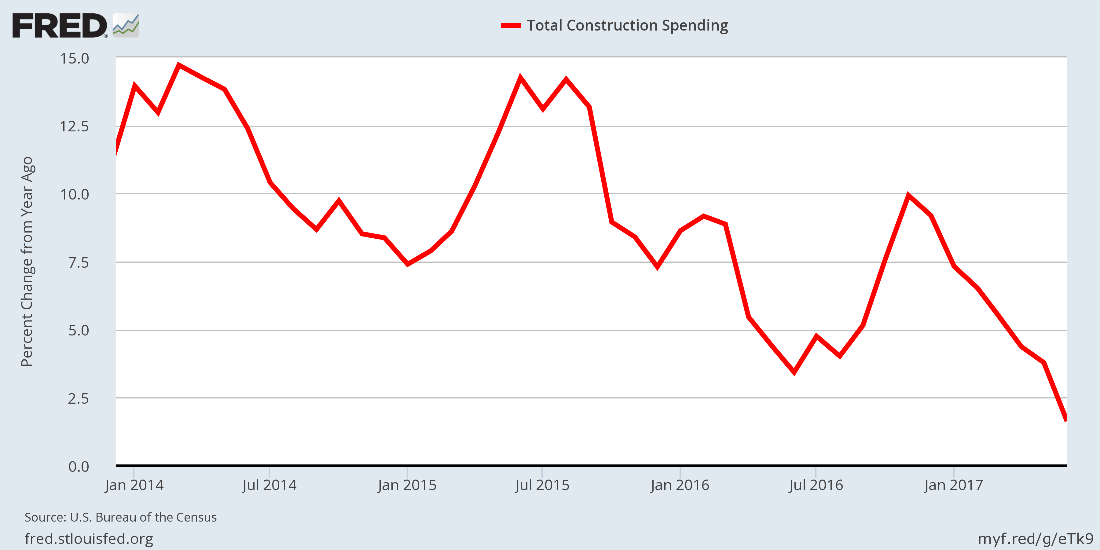 (Source: "Total Construction Spending," Federal Reserve Bank of St. Louis, last accessed September 1, 2017.)
To provide some perspective: 6.89 million Americans were employed by the construction industry in July 2017. The average hourly salary for a construction employee in the United States is close to $27.00 per hour. Minimum wage in the U.S. is $7.25. (Source: "Average Hourly Earnings of Production and Nonsupervisory Employees: Construction," Federal Reserve Bank of St. Louis, last accessed August 29, 2017.)
Sadly, this isn't all.
There's another major indicator suggesting that the U.S. economy could be headed toward a recession: industrial production of durable consumer goods. These are goods that are expected to last a long time. Think cars, furniture, appliances, tools, and other such products.
The chart below shows the year-over-year change in monthly industrial production of durable consumer goods.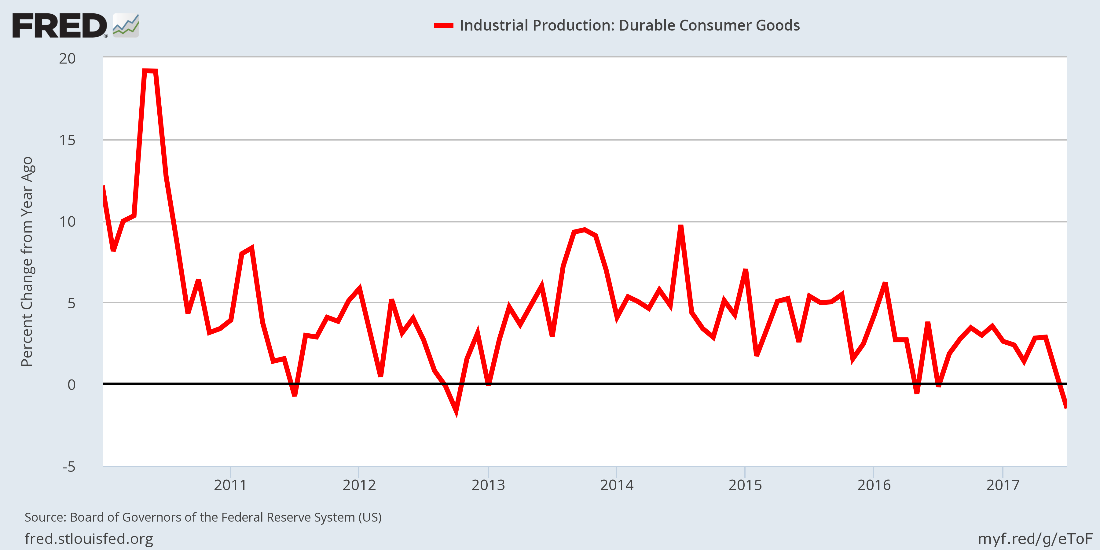 (Source: "Industrial Production: Durable Consumer Goods," Federal Reserve Bank of St. Louis, last accessed September 1, 2017.)
There are two things that investors need to know about the above chart.
In July, the industrial production of durable goods entered negative territory. It declined 1.5% year-over-year. The last time the production of these goods declined this much or more was back in 2012. Prior to that year, it was during the Great Recession.
When durable goods production is declining, it tells us that overall consumer demand is declining. This spells trouble, as consumer spending makes up a big portion of U.S. gross domestic product (GDP).
Dear reader, over the past few months, I have profiled several indicators that are saying the U.S. economy could see a recession soon. And the list keeps getting bigger. A recession will likely start to show up in the economic data in late 2017 or early 2018.