Gold-to-Silver Ratio Says Silver Is Extremely Undervalued
These days, if you look at the commodity world, you'll see something very interesting: one commodity after another is making robust moves to the upside. In the midst of all this, however, one metal remains ignored: silver. But don't be shocked if silver prices go significantly higher in the coming years.
To get an idea of how high silver prices could move, take a look at commodities like oil, nickel, coal, palladium, aluminum, tin, lithium, corn, wheat, soybeans, and coffee.
Advertisement

Why have such a bullish view on the price of silver? The metal is severely undervalued at the moment.
One measure that tells us how silver is valued is the gold-to-silver ratio. This ratio indicates how many ounces of silver it takes to buy one ounce of gold. So, a reading of 50 on the ratio means 50 ounces of silver are needed to buy one ounce of gold. Generally speaking, the higher the gold-to-silver ratio, the more undervalued silver is.
Now look at the chart below. It plots the long-term gold-to-silver ratio. Pay close attention to the major turning points on the chart.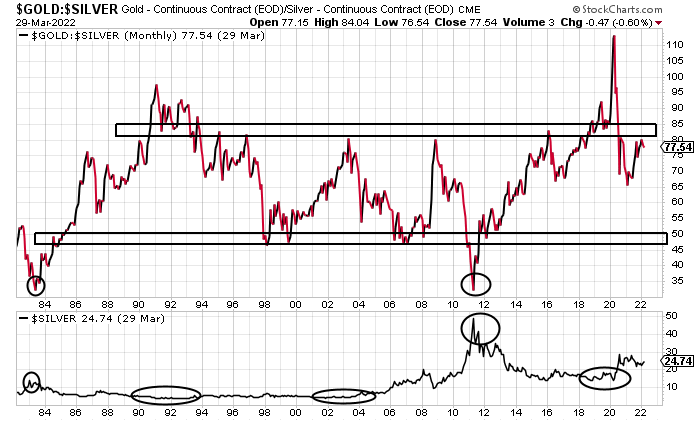 Chart courtesy of Stockcharts.com
For long-time readers of Lombardi Letter, this type of chart isn't really a new concept, but there are a few new factors that need to be considered.
The first thing to know about the above chart is that, over the past four decades or so, whenever the gold-to-silver ratio has increased past 80, it has almost always made its way back down to around 40. Currently, it looks like the ratio is on its way down. Assuming it goes to 40, and assuming gold prices remain around $1,900/ounce, silver prices would have to be around $47.50/ounce. That's roughly 90% above the current price of silver.
Digging a little bit deeper…
Whenever the gold-to-silver ratio goes above 90 or 100, we get some sort of major bottom in the price of silver. If you look closely at the above chart, you'll see that, back in 1992, the ratio surged to about 99. Around that time, silver prices made a major bottom.
On the other hand, whenever the ratio is below 35, silver might not be the best investment. It usually signifies that the gray metal could be extremely overvalued. Look at what happened to silver prices around 1984 and 2011.
Here's something to consider as well: the gold-to-silver ratio crossed above 110 in early 2020. The ratio hasn't stretched this far in recent history. With this, you have to ask: has the price of silver hit a major bottom already?
Silver Prices Could Make Run for $50
Dear reader, I'm extremely bullish on silver. The precious gray metal has been ignored for years, and now that we're seeing spikes in various commodity prices, I wouldn't be surprised if we see something similar in the silver market.
I can't stress this enough: while the current gold-to-silver ratio makes an extremely bullish case for silver, there are also other factors at play. The silver market has got some fundamental issues: the supply side is struggling while the demand side remains resilient.
Where does the price of silver go from here?
The case for $50.00/ounce silver is as strong as ever. Over the past few months, silver prices around $22.50 to $25.0 per ounce have acted as a strong resistance level. Silver continues to trade within this range. A move above this range could be extremely bullish.
I think the downside for silver could be very limited. The $15.00/ounce price has been a huge support level; many buyers usually come in when the price of silver goes that low. Moreover, we run into supply issues with silver prices that low. Anything below $15.00 could be an opportunity of a lifetime.