Silver Prices Could Surge: Millionaire-Maker Trade in the Making
Silver remains one of the most ignored assets out there, but the gray metal is presenting a great opportunity. Silver prices could surge. I'm talking multi-year highs to all-time highs. This may sound bold, but it's possible: silver could be the next millionaire-maker trade.
Before going into any details, here are a few facts about silver.
Often, when you hear about silver, it's in the context of precious metal investing. If you listen to the news, you'll most likely hear silver being discussed as a precious metal—and silver prices being quoted along with gold prices.
Yes, silver is a precious metal—it has a history of preserving wealth—but it also has a massive industrial use. The gray metal is used in batteries, medicine, nuclear reactors, solar panels, computer chips, and so much more. In fact, some industries might not be able to operate without silver.
Consider this: in 2020, the global silver demand was 896.1 million ounces. Of this total demand, 486.8 million ounces were used for industrial purposes. This represents 54.3% of the total silver demand in 2020. (Source: "Silver Supply & Demand," The Silver Institute, last accessed October 27, 2021.)
Something else worth noting is that the physical investment demand for silver in 2020 was 200.5 million ounces. This is just 22.4% of the total global silver demand.
Keeping all this in mind, one could say silver prices are more dependent on industrial demand than anything else.
Why Silver Prices Could Surge
Now, coming back to what's ahead for the price of silver.
As it stands, we've been seeing a rush toward industrial metals. The world has been finding out that there are supply issues. Over the years, there has been a huge lack of investment in industrial metal projects. Now that there's some business growth globally, there are problems sourcing the metals.
Look at aluminum prices; they're at record highs. Tin, another widely used industrial metal, trades at record-high prices. Zinc just made a five-year high. Lead prices are breaking out of a major downtrend. Copper is surging; its price stands at its highest level since 2011.
In the midst of all this: silver prices lag.
Over the years, other industrial metals have gone through similar problems as silver: lack of investment in projects, a tight market, and so on.
With that in mind, look at the chart below. It plots the S&P GSCI Industrial Metals index. This index tracks the price performance of industrial metals like lead, zinc, copper, and aluminum.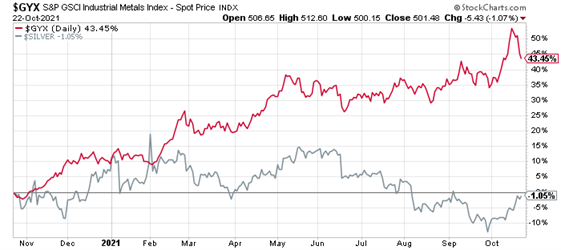 Chart courtesy of StockCharts.com
Notice something in the above chart? Over the past year, industrial metals have soared by 43.5% but silver prices have declined by a little more than one percent.
You really have to question this disparity. Is silver being ignored? If the prices of other industrial metals are currently at multi-year or all-time highs, why isn't the price of silver moving higher?
Silver Price Outlook: $50/Ounce Silver Could Be Coming Soon
Dear reader, I'm keeping a very close watch on the disparity between silver prices and other industrial metals. It's making me more bullish on silver. If we assume that silver gets treated like other industrial metals, the gray metal has a lot of catching up to do.
While this is happening, you must know that the inflation noise continues to get louder all over the place. As silver is deemed an inflation hedge, there could be increased investor demand. This could send silver prices much higher.
I continue to believe that $50.00-an-ounce silver might not be too far ahead.
How to profit if the price of silver surges? Looking at the previous silver bull market, silver mining stocks tend to do really well when silver prices rise. Investors get leveraged returns from mining stocks. If the price of silver doubles from here, it wouldn't be shocking to see some silver mining stocks soar by 200%, 300%, or even more.