These 5 Things Make a Strong Case for Higher Silver Prices
Silver prices this low could be offering a great investment opportunity. Long-term investors could reap massive rewards from the gray precious metal.
There are at least five reasons to be bullish on silver in the coming months and quarters.
1. It's Undervalued
To value silver, investors look at the gold-to-silver ratio. It essentially tells us how many ounces of silver it takes to buy one ounce of gold.
Over the last two decades, whenever the gold-to-silver ratio has reached around 80, it has then dropped lower—to around 45. So, whenever this ratio is around 80, silver is deemed undervalued.
The below chart shows that the gold-to-silver ratio currently stands just slightly below 80.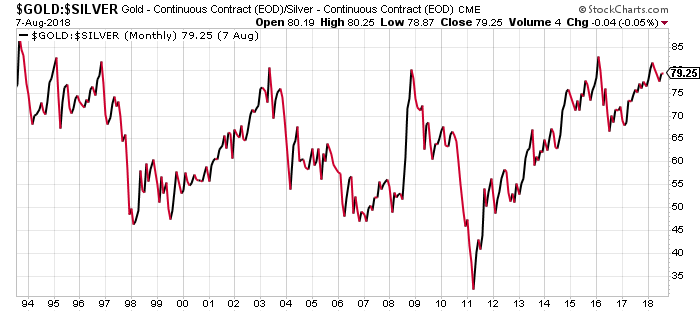 Chart courtesy of StockCharts.com
Saying the very least, the current ratio says that silver is undervalued.
If we assume that this ratio drops to 45 again and gold prices remain the same, silver prices would have to go up a lot.
2. India Has a Growing Appetite for Silver
Usually, when talking about India, investors see the country as a major gold consumer. You should know, however, that India's appetite for silver is increasing.
Consider that in June 2018, $364.24 million worth of silver was imported into the country. In June 2017, this amount was just $178.04 million. Simple math here: India imported 104.58% more silver in June this year than last year. (Source: "Quick Estimates For Selected Major Commodities For June 2018," India's Ministry of Commerce and Industry, last accessed August 8, 2018.)
3. Consumer Demand for Silver Is Improving
Look at the mint sales of silver. It looks like there's a "silver rush" in the making.
Some perspective: between June and July 2018, silver sales at the United States Mint surged by over 103%. It sold 885,000 ounces of silver in American Eagle coins. A month earlier, sales amounted to 435,000 ounces. (Source: "2018 American Eagle (Sales totals by Month)," United States Mint,  last accessed August 8, 2018.)
At Australia's Perth Mint, in the first half of 2018, silver sales were less than 4.3 million ounces. This was lower than in the same period a year ago, but still very strong. In the first half of 2017, Perth Mint silver sales were almost 5.0 million ounces. (Source: "Perth Mint's June gold sales rise, silver sales plunge," Reuters, July 2, 2018.)
4. Silver Mine Production Is Declining
Low silver prices are making it difficult for miners to produce more. Over the past few years, silver mine production has actually declined.
In 2015, worldwide silver mine production was 895.1 million ounces. In 2017, it went down to 852.1 million ounces. This was a decline of close to five percent over two years. (Source: "Silver Supply & Demand," The Silver Institute, last accessed August 8, 2018.)
Don't for a second expect things to get better on the production side. Silver miners have cut back on exploration over the past few years. This essentially means they are far behind on increasing production. Remember, exploration is an investment in future production.
5. Economic Data Favors Silver
Don't forget, silver is a precious metal. Just like gold, it hedges against inflation.
And as it stands, we are seeing inflation creep up higher. In the U.S., in the first six months of 2018, prices increased by 1.1%. (Source: "CPI-All Urban Consumers (Current Series)," Bureau of Labor Statistics, last accessed August 8, 2018.)
With so much money being printed over the past few years, don't be shocked to see inflation soar higher in the U.S.
Mind you, inflation is creeping up higher in other major economies as well.
If this remains the case, it wouldn't be surprising to see investors rush to buy things that protect their assets. Silver could be one such thing.
In other words, the current economic data favors higher silver prices.