These Three Charts Foretell Economic Slowdown Ahead for the U.S. Economy
There are a few worrisome developments in the U.S. economy worth keeping a close eye on. They foretell an economic slowdown ahead if not fixed.
Before going into any details, Economics 101 tells us that the U.S. gross domestic product (GDP) is the sum of consumption, investments, government spending, and net exports in the U.S. economy. Consumption makes up roughly 70% of U.S. GDP and the other three factors make up the rest.
If you see all these factors declining, it's troublesome.
Sadly, as it stands, we are seeing some factors that make up the U.S. GDP tumbling and foretelling an upcoming economic slowdown. Obviously, these things are ignored because of all the noise generated by the soaring stock markets.
Personal Consumption Declining
Take a look at the chart below. It shows the year-over-year change in monthly personal spending adjusted for price fluctuations.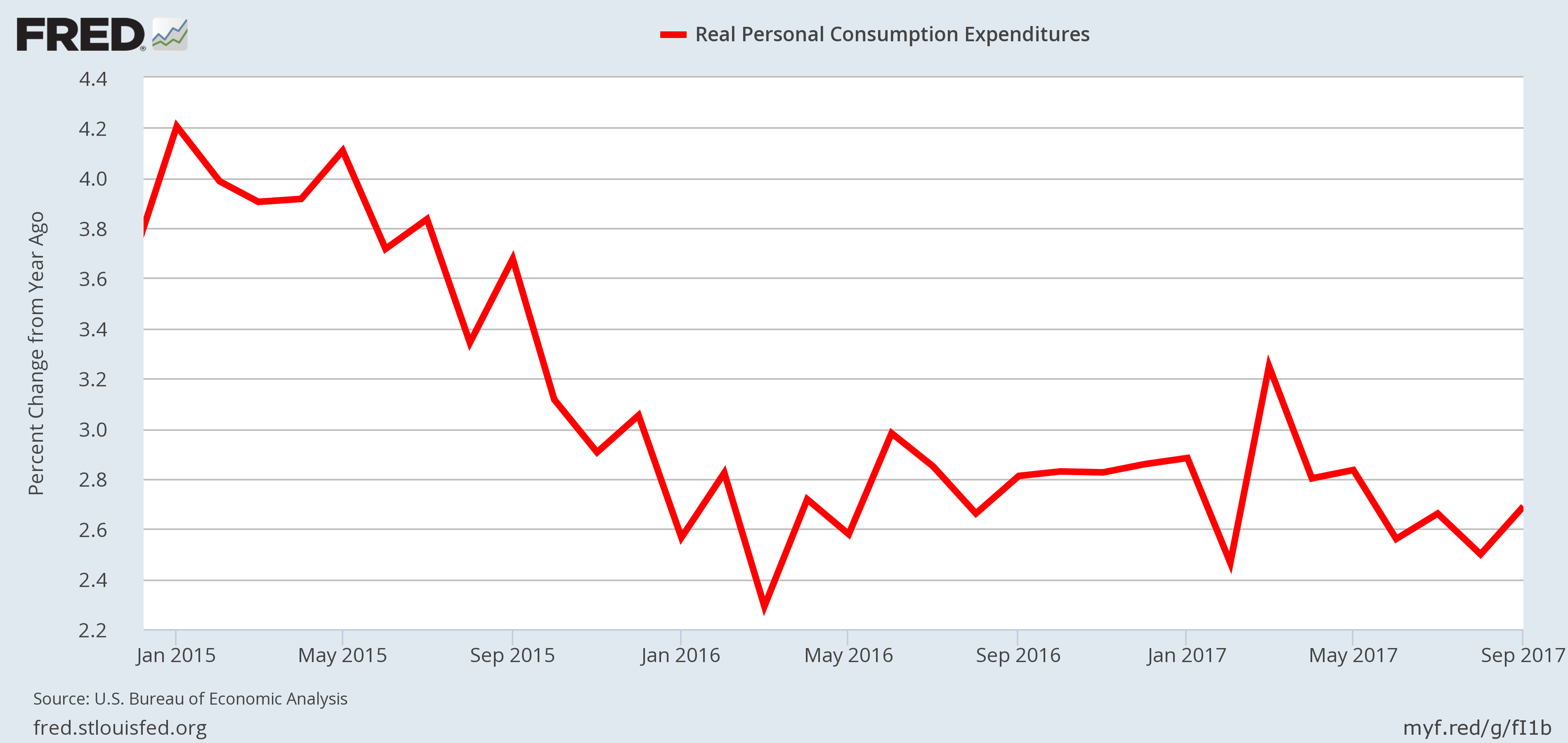 Personal consumption in the U.S. economy is still growing, but the growth rate has tumbled over the last few years. In 2015, the personal consumption expenditure was growing at 4.2%. Now, it's around 2.6%.
Could the U.S. economy go at full throttle with consumers pulling back on spending?
U.S. Construction Spending Collapses
But, it doesn't just stop here….
Look at the chart below. It shows the year-over-year change in monthly construction spending. It spells trouble ahead for the U.S. economy as well.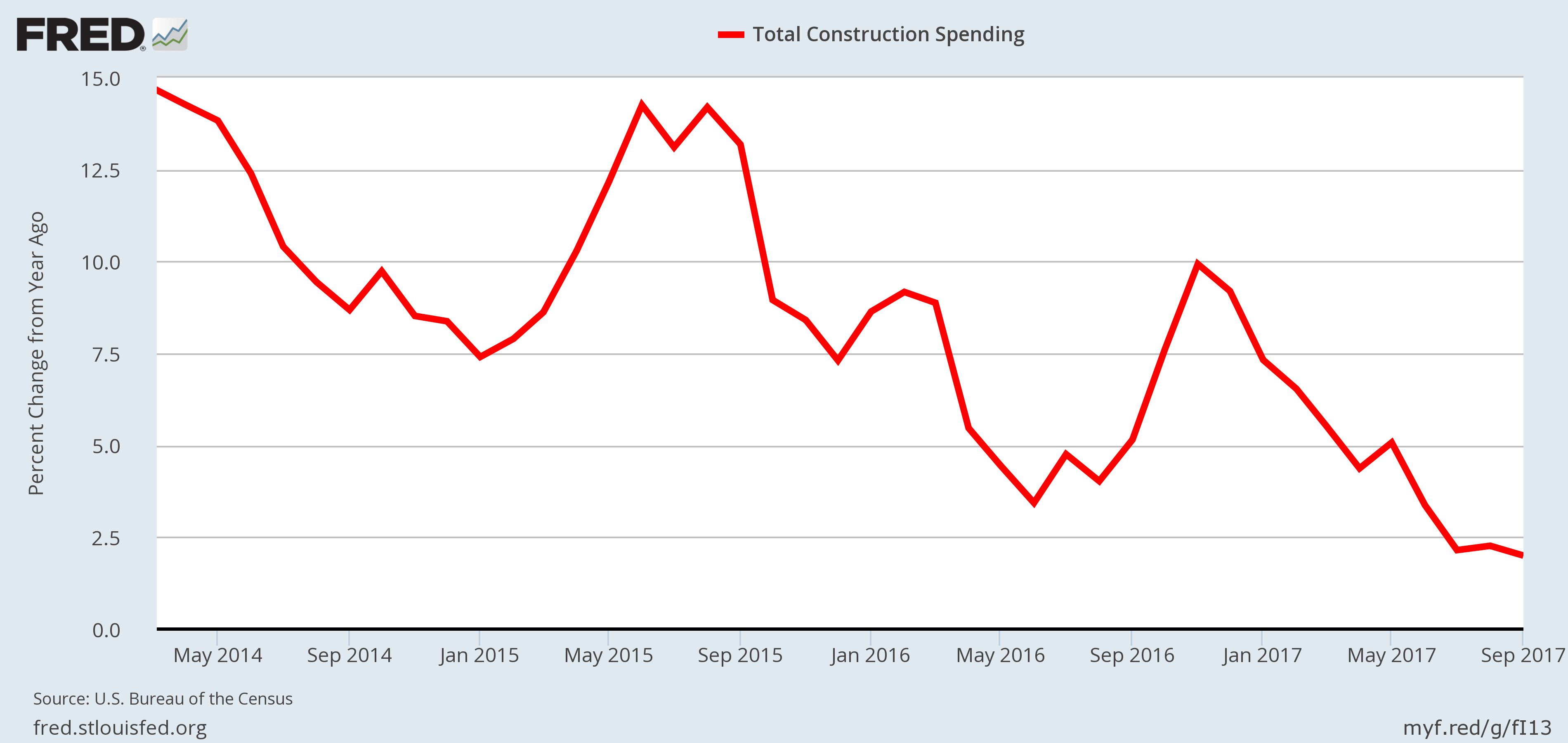 In 2014, construction spending growth was stellar. It was growing at nearly 15%. Now, it's below two percent. No matter how you much you sugarcoat this figure, the chart shows a complete collapse in construction spending.
Why is construction spending worth watching? Remember, with increasing construction spending, there could be more construction jobs and these jobs tend to pay well compared to retail jobs. This could have trickle-down effects on the overall U.S. economy.
U.S. Exports Tumble
Lastly, look at another chart: Exports.
In simple words, the U.S. economy is failing to sell its goods and services to other countries. The chart below shows the year-over-year change in quarterly export figures.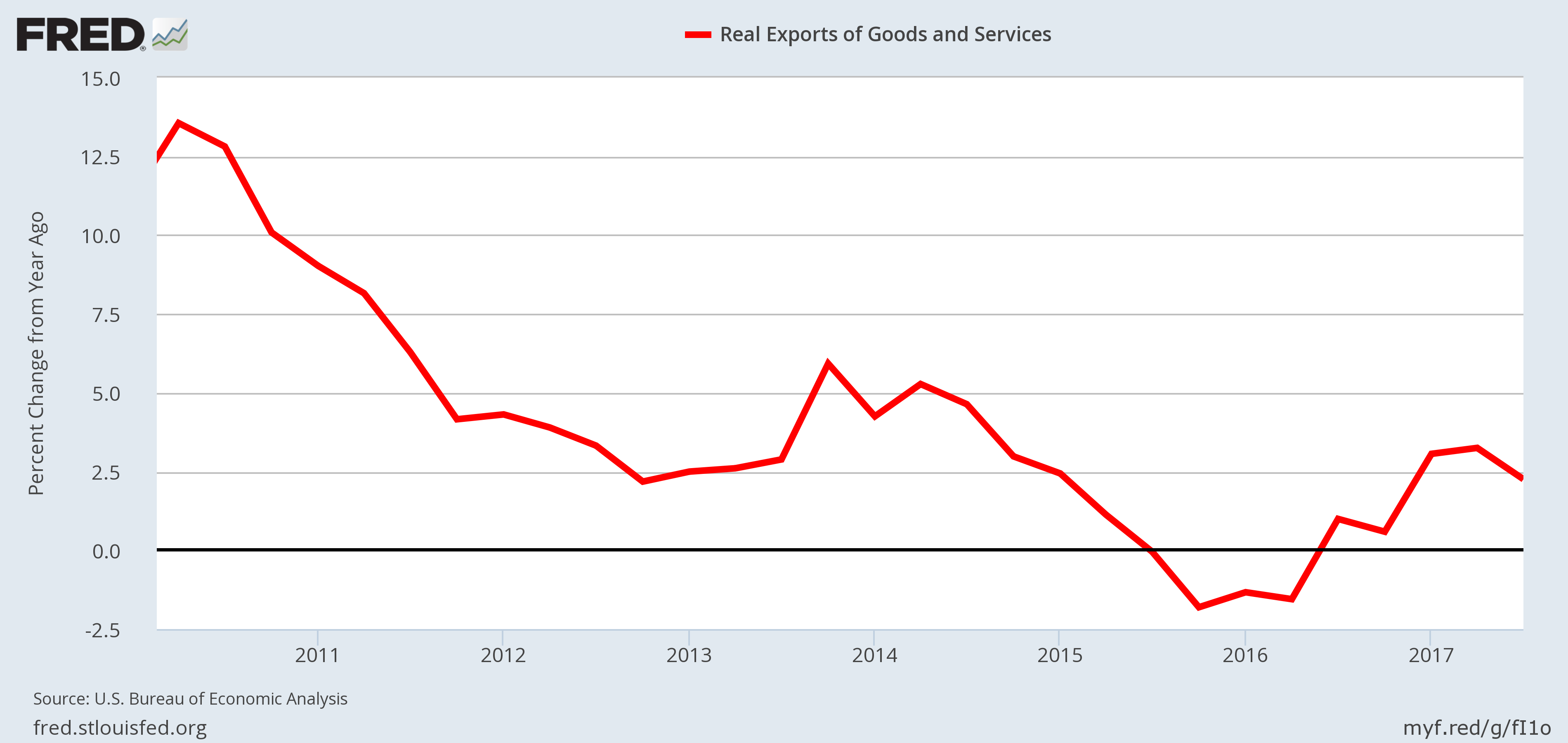 The chart above says exports from the U.S. economy have collapsed. After the financial crisis, exports were growing over 12%. Now, the growth rate has tumbled to below 2.5%. In late 2015 and early 2016, we actually saw exports decline.
What's Next for the U.S. Economy?
Is the U.S. economy in a full-out economic slowdown? No.
But, dear reader, the charts presented above make a solid case that we could be nearing an economic slowdown sooner than later.
I am personally watching what the Federal Reserve does in its meeting in December. There's a lot of noise that suggests the Fed could be raising rates again. It will not be shocking if the rates go higher. The Fed has made it very clear that it wants to raise rates.
I am questioning if the U.S. economy could take more interest rate hikes. With even higher interest rates than now, we could see consumption, construction, and exports decline further.
I will be bold here and say this: I see 2018 to be a bad year for the U.S. economy. In the early to mid-year, a recession could actually become reality for the U.S. economy.
Obviously, with time, we will know more. But, it's hard to be optimistic for now.