China's Manufacturing Says the Global Economy Could Be in Trouble
Let's get this straight; the global economy is slowing down. Don't be shocked if 2019 is the year a global economic recession becomes a reality.
This warning is not from a gut feeling, there are indicators backing this argument.
For instance, look at the Chinese economy, the second-biggest economy in the world, as one indicator.
In December 2018, manufacturing activity in the country contracted for the first time in 19 months. The index tracking manufacturing activity in the country, Caixin/Markit Manufacturing Purchasing Managers' index (PMI), dropped to 49.7 in December. A reading below 50 means manufacturing activity is contracting.
Zhengsheng Zhong, director of macroeconomic analysis at CEBM Group, a subsidiary of Caixin, said, "It is looking increasingly likely that the Chinese economy may come under greater downward pressure." (Source: "Caixin China General Manufacturing PMI™," Markit Economics, January 2, 2019.)
You see, China is also referred to as the "factory" of the world since it produces so much and exports heavily around the globe. If the manufacturing activity in China is slowing down, it's a very clear sign that the demand in the global economy could be slowing down.
Industrial Stocks Foretell a Scary Tale for the Global Economy
Not convinced that the global economy could be headed for trouble? Look at the chart below.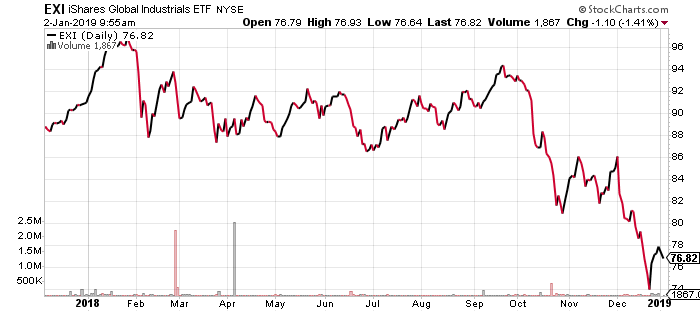 Chart courtesy of StockCharts.com
The chart above plots the price of iShares Global Industrial ETF (NYSEARCA:EXI). Essentially, it's an exchange-traded fund (ETF) that tracks the performance of industrial stocks globally—companies that produce goods used in construction and manufacturing.
Industrial stocks tend to register anemic performance before and in the midst of economic slowdowns.
Since early 2018, the index tracking global industrial stocks has declined over 20%. What does it say? It's saying that a lot of troubles could be ahead for the global economy.
IMF Ringing Alarm Bells
But don't just stop here…
Look at the organizations that follow the global economy closely. They are worried.
Consider the International Monetary Fund (IMF), for example.
In its most recently global outlook, the IMF said, "…At the same time, however, the expansion has become less balanced and may have peaked in some major economies. Downside risks to global growth have risen in the past six months and the potential for upside surprises has receded." (Source: "Challenges To Steady Growth," International Monetary Fund, last accessed January 2, 2019.)
Understand that the IMF and other similar organizations tend to be optimistic. When they come up with pessimistic remarks, it's not a good sign.
Complacency Prevails for Now, Investors Beware
Dear reader, right now, no one really cares about what's happening in the global economy.
Stock markets have come down over the past few months, but investors don't seem too nervous. I believe there's still too much complacency out there.
If a global economic recession becomes reality and the data shows deteriorating conditions, I wouldn't be shocked if we see a mass exodus out of assets like stocks—something much bigger than what we have seen already.
I am keeping a very close watch on the global statistics. It could be a catalyst for the next leg of the sell-off.