Silver Prices at $18.00 Seem Dirt Cheap
If you are looking for the next big trade, then pay very close attention to silver prices. In a few years, we could be looking back at silver at $18.00 per ounce and saying, "That was a dirt cheap price."
Understand this: at the moment, silver could be one of the most overlooked assets out there. Ignoring it could lead to missing out on immense gains.
There are three charts that investors should look at. They paint an extremely a bullish outlook for the price of silver in the coming months and quarters.
This Ratio Says Silver Could Jump 95%
The first chart worth looking is the gold-to-silver ratio, as shown in the below chart.
In simple words, this ratio tells us how many ounces of silver it takes to purchase one ounce of gold. Currently, the gold-to-silver ratio stands at 88.02. This means it takes 88.02 ounces of silver to buy one ounce of gold.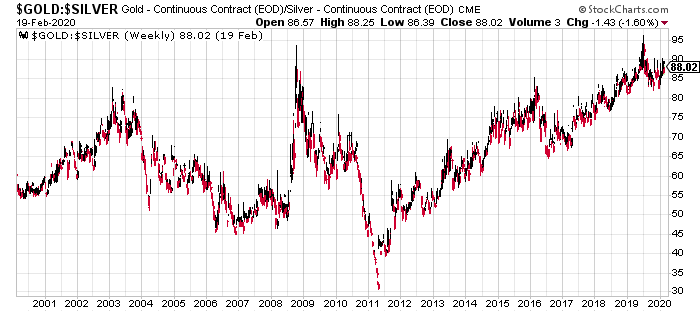 Chart courtesy of StockCharts.com
Here's the thing: looking from a historical perspective, whenever this ratio crosses above 80, silver prices are deemed to be undervalued. Another interesting observation: this ratio doesn't remain above 80 for too long. Whenever it gets that high, it usually soon comes down to around 45.
Assuming we see a turnaround in this ratio and it drops to 45 but gold prices don't move at all (currently at $1,610.0), silver prices would have to jump to $35.77. That's roughly 95% above the current price of silver!
The Last Time This Happened, a Bull Market Was Born in the Silver Market
The second indication worth watching is the correlation between silver and the S&P 500. It's plotted below the silver price in the next chart.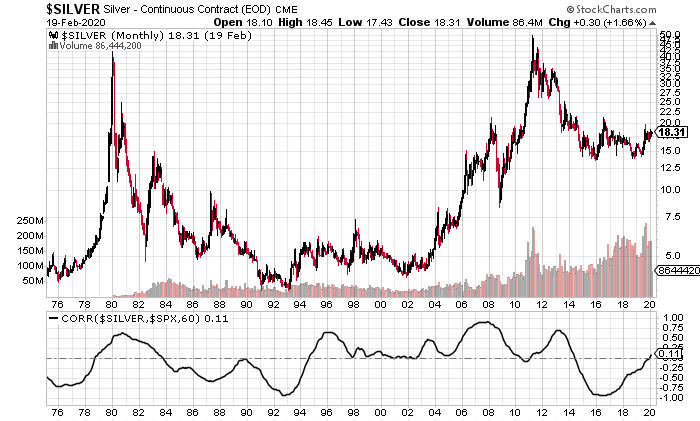 Chart courtesy of StockCharts.com
Whenever the correlation between the price of silver and the S&P 500 reaches a severe end, around minus-one, we get a bottom in silver prices.
We saw this happen around 2016.
Here's the best part: once the correlation changes direction, you see immense gains in the coming years. The last time something like this happened was back in 1992. That was the absolute bottom in the price of silver, and we saw a massive bull market begin afterwards.
Volume in Silver Market Surging
Lastly, look at the long-term chart of silver prices and pay close attention to the circled area in the bottom-right corner.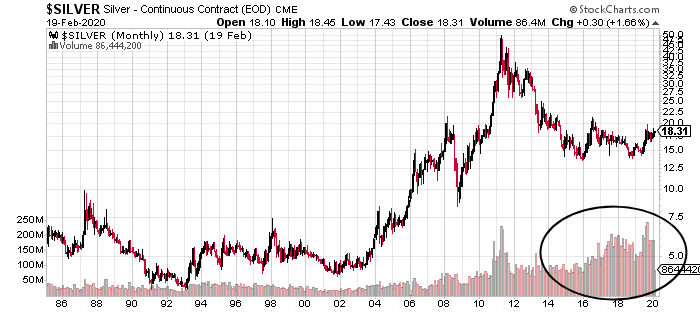 Chart courtesy of StockCharts.com
You see, since 2016, we have seen a massive increase in the volume of silver traded while the price remained relatively flat.
What does that mean? It says that the sellers weren't strong enough to take the price of the precious metal lower, and lots of buyers stepped in. This development is very bullish. Whenever you see a lot of trading volume in the silver market, it's usually a good indication that higher prices could be ahead.
How to Make Money as Silver Prices Set Up to Soar?
Dear reader, I will repeat what I said earlier: there's a massive move waiting to happen in the price of silver. The gray precious metal could reward patient investors immensely.
Where could the biggest gains be? I believe that silver miner stocks could provide leveraged gains to silver prices. Over the past few quarters, a few of the biggest names in silver mining have been bought up by investors. But there are still many that are just ignored, even though they have good properties, are producing already, are  reducing their costs, and have very strong balance sheets. These companies could offer stellar rewards to investors.