If Automakers Don't Sell More Cars, They Could Be in a Lot of Trouble
Investors watch out, as automakers could be in a lot of trouble in the coming months and quarters.
Before going into any details, know that automakers make money when they sell more cars.
But as it stands, auto sales are tumbling.
Look at the chart below to get some perspective. It plots the year-over-year percentage change in monthly auto sales.
It's very evident that sales are declining, with a clear downtrend: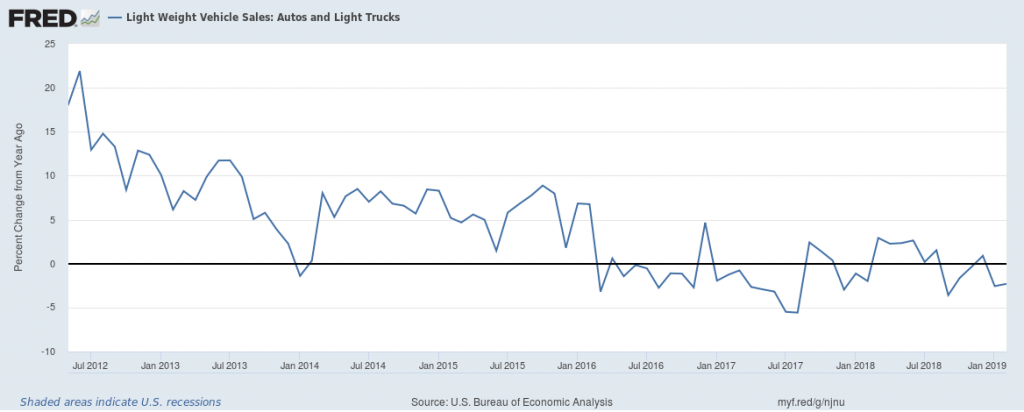 (Source: "Light Weight Vehicle Sales: Autos and Light Trucks," Federal Reserve Bank of St. Louis, last accessed March 19, 2019.)
In September 2017, the annual auto sales rate in the U.S. was 18.1 million. In February 2019, this rate was 16.5 million. This represents a decline of 8.8%.
This decline may not sound like much, but in the grand scheme of things, it's very bad news for automakers.
With this, one has to wonder if the sales decline is temporary.
Automakers themselves think poor auto sales could be ahead.
You see, businesses build up inventories in case they expect demand ahead. Why? So when there's demand, they are able to sell as swiftly as they can.
Domestic auto inventories are falling really hard.
Around mid-2017, there were 1.17 million vehicles in inventories at automakers. This hinted that they were expecting sales growth.
Now, domestic auto inventories stand at around 741,100.
Simple math here; this represents a decline of over 36%.
If this is saying anything, it's that automakers expect sales to tumble.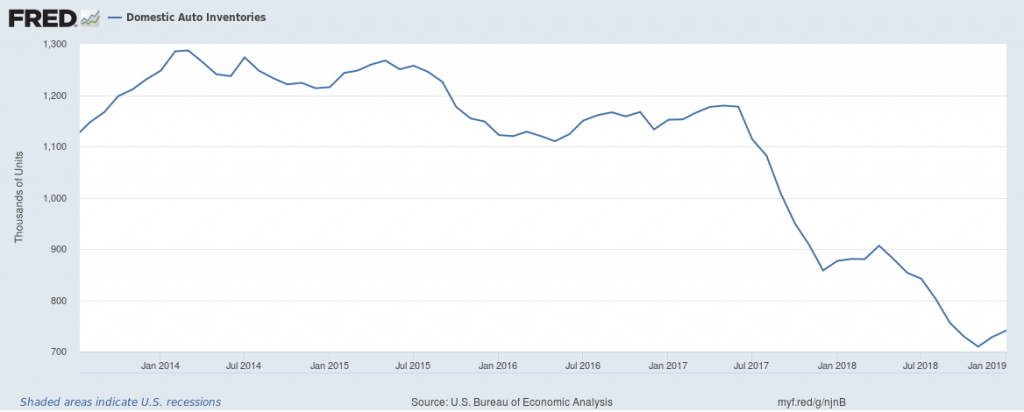 (Source: "Domestic Auto Inventories," Federal Reserve Bank of St. Louis, last accessed March 19, 2019.)
Lastly, look at auto loans, which are critical when it comes to auto sales. If banks don't give out loans to individuals and companies to buy cars, automakers suffer.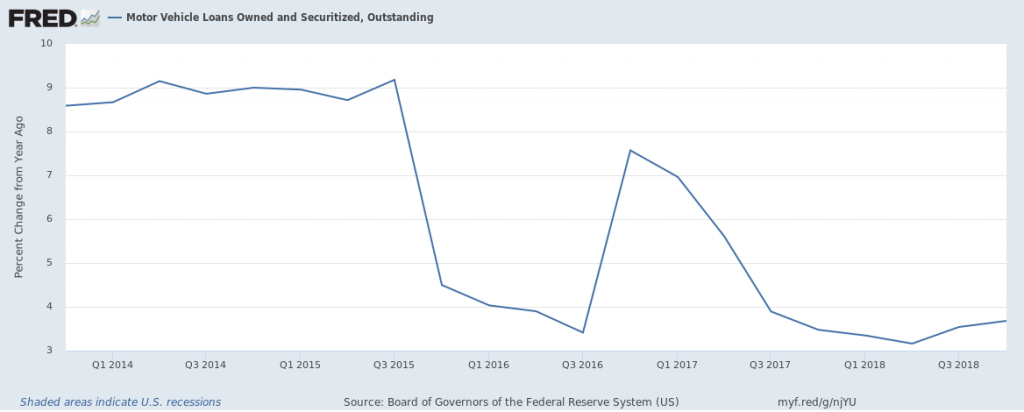 (Source: "Motor Vehicle Loans Owned and Securitized, Outstanding," Federal Reserve Bank of St. Louis, last accessed March 19, 2019.)
We are seeing auto loan growth slowing down.
Consider that in early 2015, auto loans were growing at around nine percent. Now, this rate is around 3.67%. In other words, auto loan growth has slowed by about 60%.
Automakers Stocks Could Tumble and One Million Jobs Could Be on the Line
Dear reader, as it stands, there could be a perfect storm brewing for automakers.
After the financial crisis of 2008 and 2009, they had a great time selling cars. Everything was working in their favor—banks were lending money and consumers were optimistic.
Things are very different now.
In the coming months and quarters, it wouldn't be shocking to see automakers report more misery when it comes to their sales. Their profitability could suffer immensely as well.
What happens if automakers' profitability tumbles? Their stock prices drop. So, investors who own car makers' stocks could suffer losses.
But stock prices could just be one thing. Struggling automakers could have an impact on the overall U.S. economy as well.
Let me leave you with some food for thought: as of February 2019, there were a little over one-million Americans who worked for companies that make motor vehicles and parts. (Source: "All Employees: Durable Goods: Motor Vehicles and Parts," Federal Reserve Bank of St. Louis, last accessed March 18, 2019.)
If car makers are suffering, would these one million jobs remain safe?